Well to blog or not to blog that is the question??
The answer just do it!!!I have succumbed to pressure and so here it goes. It is frighten as you can see in print how boring I am which is scary hehehee.
My passion for mixed media has brought me many great opportunities, many great friends.SO one giant step for Jen two backward steps for man kind.
I have a great passion for jewerly making using 3D objects and adding pictures to them, I'm a metal head. No not heavy music but really metal.Here is a necklace I made after finding a great metal piece in a antique shop for $4 dollars cash money, then adding a old fob chain and ye olde christmas lights wrapped with wire.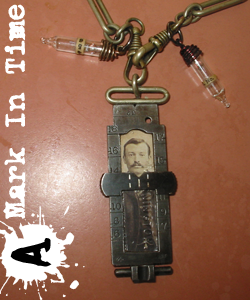 Well that was painless my first official Blog!!!
Jen Crossley or Crozzalinski